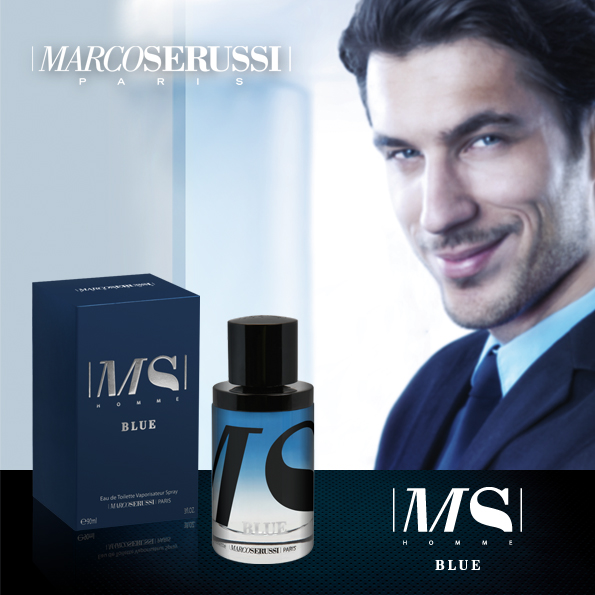 Ingredients:
Grapefruit – Mandarin – Cardamom – Pink Pepper Pure JE.
Jasmine – Lavandin – Nutmeg – Incense.
Orcanox – Patchouli – Musks – Vetiver – Ambramone.
MS Blue
MS Blue is a true personalization of freedom, capturing the deep blue sea color and the gorgeous soft breezy wind. The fragrance is for the man who lives his reality with passion and excitement, it's for those who seek and achieve their dreams.
The new version of the famous men's fragrances "MS Homme" is arriving as an innovative edition in a simple blue light-colored but elegant bottle. The fragrance has kept the same stunning, elegant and masculine features of the previous fragrances from MS collection.
The Fragrance
It's time to complete "MS Homme" collection.
MS Blue is a way of looking at life, it is a joyful and positive attitude.
It's a fougere aromatic fragrance with both fresh and spicy facets marked by an ambary print.
The fragrance starts with a surprising note, blending sparking grape fuit and mandarin with spicy scents of cardamom and pink pepper pure JE.
In the heart lavender brings out the aromatic facet, subtly combined with jasmine, nutmeg and incense.
The amber woody and musky base provides this fragrance with warmth and depth, for an incarnation of masculine modernity.